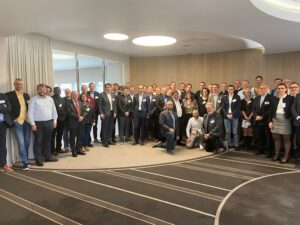 On 12 April 2022, the mid-term conference for 5GRAIL was held at the Pullman Centre Midi Hotel in Brussels, attended by around 100 participants from the international railway community and telecoms sector.
During the conference, project partners showcased the progress 5GRAILhas made starting from its launch in September 2020 and introduced how the final objectives of the project are helping to deliver a demonstrator for the Future Railways Mobile Communication System (FRMCS), which will be a crucial enabler for aspects like automated train operation, new applications for security, remote monitoring and surveillance of vehicl e elements and more.
Jean-Michel Evanghelou, UIC Director for Telecom and Digital, opened the conference on behalf of François Davenne, UIC Director General. His introduction was followed by remarks from Philippe Citroën, UNIFE Director General and Jorge Pereira, 5GRAIL Project Officer at DG CONNECT.
GSM-R has been a success story for 21 years now, which has enabled ERTMS. FRMCS is the successor to GSM-R. It is a 5G-based system. It also relies on a 3GPP mission critical framework, which will enable functionality, quality of service and seamless border crossing.
The overall objective of the railway sector is to make a first edition of FRMCS available by 2025-2026 to enable national pilots to begin. 5GRAIL is a critical step in this plan and will see the development of FRMCS prototypes, especially the FRMCS TOBA (Telecom On-Board Architecture), together with the applications, to be tested in labs and in the field with real trains.
5GRail is a complex project but is clearly on track and is starting to show key results: the consortium is on its way to integrating modems working in FRMCS 1900 MHz frequencies, with critical applications such as ETCS and ATO.
At the mid-term conference, the floor was given to all 5GRAIL work package leaders, who presented the project status and plans. Some images were also shown from the two labs in which tests have begun. These visible results and progress are undoubtedly due to the quality of work and exceptional efforts of the 5GRAIL team. The conference closed with a roundtable discussion on the way forward, with speakers representing the suppliers, railways and standardisation bodies.
Please find the presented slides here